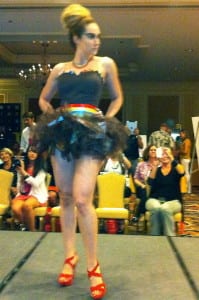 Did you make it to Social Media Day Phoenix 2012? Though we aren't newcomers to our industry, we are somewhat new to the scene in Phoenix as both small business owners/entrepreneurs AND as small business marketers. Our first "go" at #smdayphx really demonstrated how strong the Small Business Marketplace is in the valley. If you are a business owner (especially a small business owner) and are not part of a coalition like Local First Arizona or even your city's Chamber of Commerce, that should be your very next proactive move. Starting at $49/ year, Local First is in EVERY budget.
Back to #smdayphx! There were companies of all sizes, from national brands like Pop Chips to great local newbies like Fit Bride: Say I Do to a Fit You. Many small business owners we meet (and there were a few yesterday) either get a hazy or absolutely terrified look when we ask about their marketing plans. It makes sense because they are bracing themselves for a sales pitch about something they might not understand, assume is probably a cookie cutter approach and most likely out of their budget. And besides, most of us just bristle at the thought of a sales pitch. The pressure is even worse when we know it is something that we probably do need or should do, but are too busy or just aren't ready.
This is why we started OutLoud. I personally tired of having friends who would open up businesses — fabulous ideas, great experience behind them — only to fail miserably because they felt they couldn't get the word out to the right customers at the right price in a way that was constant with their branding and goals. And so a concept was born. A "neighborhood" marketing firm at which no client is too small to afford services to help them grow their business in a professional, intelligently branded, cost-effective way. We do NOT want you to translate this to mean we are bargain marketers — nothing could be further from the truth. You've heard the term "if you have to ask how much it costs, then you really can't afford it"? We are here to dispel this mindset and will work with you to reach your goals in a way that you feel confident and excited about that produces RESULTS.
Please browse our website for our work with clients: Luxe Salon & Spa and Strategies for Success were both honored with awards in their first few months of working with OutLoud and trusted affiliates. Luxe Salon & Spa was chosen as a Runner Up/East Valley in a reader-selected, "Best Of "contest and interviewed/published in one of the leading national trade publications in their industry in 2012. They were just tapped to work with Arizona Cardinals Sam Acho and their opportunities continue to soar. Strategies for Success received a Best of Chandler Award and had five new clients booking appointments on its brand new WordPress site in the first week: Results that got noticed and paid for themselves!
We'd like to hear your story, find out more about your business passion and discuss how we can create buzz for your brand using inventive, organic and affordable methods. But most of all, helping you to structure your business so that marketing is not a stress, but a part of your success. Please follow us at @outloudstudio or find us at facebook.com/outloudmarketingstudio.com and spread the word. We look forward to working with you!